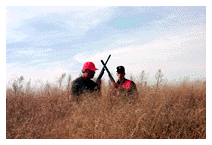 Brush Dale Hunting Preserve's location very near Iowa's Mississippi River border makes it the perfect weekend getaway; convenient for corporate hunts; and a central location for your NAVHDA chapter's or dog club's conferences, training days, fun hunts and testing grounds. Brush Dale is just 3 hours from Chicago or Milwaukee, 2 hours from Madison, 5 hours from the Twin Cities, 5 hours from Sioux City or St. Louis, and less than an hour from the Quad Cities.

Train your versatile hunting dog for field and water work at Brush Dale year round. Pen-raised birds may be legally shot in conjunction with hunting dog training activities year-round in Brush Dale's training fields. We have ponds with gradual slopes to swimming depth that are perfect for introducing pups to water. For those training towards the NAVHDA Utility Test, Loch Ness Pond works very well for training steadiness at the blind and retrieve of a duck. Our Wood Duck Pond is a great place to work on the Duck Search.

Brush Dale is the perfect place to introduce your young hunting dog to pheasant and chukar hunting. We are happy to plant your young dog's birds in areas that will be easier for your dog to find them. We have the birds, equipment, knowledge and grounds to help make your training a success!