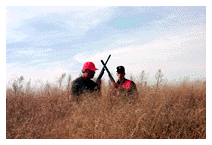 Brush Dale Hunting Preserve's location very near Iowa's Mississippi River border makes it the perfect weekend getaway; convenient for corporate hunts; and a central location for your dog club's conferences, training days, fun hunts and testing grounds. Brush Dale is just 3 hours from Chicago or Milwaukee, 2 hours from Madison, 5 hours from the Twin Cities, 5 hours from Sioux City or St. Louis, and less than an hour from the Quad Cities.

If you are a visitor to Iowa, hunting at Brush Dale will save you a significant amount of money in hunting license fees. Annual Preserve Hunting Licenses, for hunting game birds on any of Iowa's hunting preserves for the calendar year, as well as most other Iowa Hunting Licenses may be purchased at Brush Dale. A Preserve License with Habitat Stamp is just $22.00, whether purchased by an Iowa or out-of-state resident. Licenses may be purchased online or at Brush Dale. (NOTE: If born after January 1, 1972 and purchasing your first Iowa hunting license, you must have completed a hunter safety education course. Proof of course completion is required in-person, so you cannot purchase your license online.)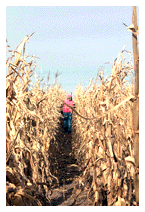 Pheasant/Chukar hunting season at Brush Dale runs from October 15th to March 31st. Avid hunters will not want to miss the opportunity to match wits with wild and released Ringneck Pheasant on the Preserve's restored Grasslands. The main hunting field is a 200-acre sea of grass cover and standing corn foodplots, over gently rolling hills.
At Brush Dale Kennel we breed Small Munsterlanders for versatile hunting. You can hunt with our top-performing gun dogs, bring your own dog, or both. If you stay overnight in our beautiful VIP Lodge, your dogs may sleep in their crates in the heated Hawkeye Lodge or in one of our guest kennels. There is also lodging in the area that allows pets.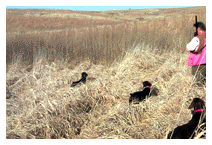 Full-day, half-day and economy pheasant/chukar hunts are available in several hunting packages. Whitetailed Deer hunting is available during bow seasons.
Brush Dale is the perfect place to introduce your young hunting dog to pheasant and chukar hunting. We have a 20-acre field many hunters like to use for an economy hunt with their inexperienced dog. We are happy to help make your young dog's first hunting experience a success!