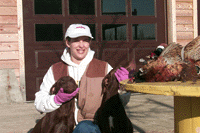 Brush Dale has been continually owned by a member of the Janssen family since the mid-1800's. It's current owner, Judith Ann Janssen Pooler, took over ownership and possession of the from her parents in the mid-1970's. Since that time, she and her husband, Dell Pooler, have worked tirelessly to bring it back to its former glory, after years of neglect by tenant farmers.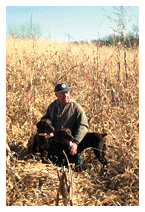 For many years after the death of Judith's grandparents, Brush Dale was owned by Judith's father, aunt, and uncle and was operated as a dairy farm. After the death Judith's father, Brush Dale was diversified into stock cows and hogs, but after the milking tenants moved onto their own farm in the early 1980's, Brush Dale was switched to a stock-cow-only operation.
The Janssen family always enjoyed hunting and trapping an abundance of wild game on the farm, which was a love shared by Dell. He knew Brush Dale had tremendous potential as a habitat for pheasant, quail, wild turkey and white-tailed deer, and when the opportunity presented itself to foster that potential with the help of the DNR, Dell and Judith took it. In 1985, the process of moving the entire farm into various government-sponsored conservations programs, like the CRP, began by first removing the cows from the creek bottom and shutting down the stock cow operation. Since that time, 100% of Brush Dale has been taken out of production and steps taken to return it to its natural splendor.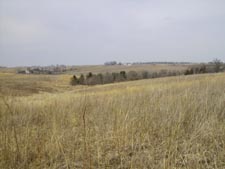 The planting of trees and shrubs for windbreaks, transforming gullies into ponds, sowing grass and wildflower seed, creating giant brush piles for cover, cleaning the timber of dead trees, stabilizing the Creek's banks, killing thistles and multi-flora rose, and numerous other "projects" began as soon as Dell and Judith took possession of Brush Dale and continues to this day. After decades of hard work, in 1999, Brush Dale's
Grassland
was officially registered with the State of Iowa as a private hunting preserve.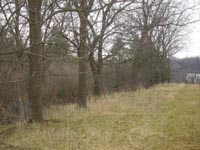 On the Grassland, over 250 acres of the tallest, thickest
Iowa Grassland
you will ever see provides cover and nesting for pheasant, quail, wild turkey, ducks, and deer. The Grassland includes many food plots,
eight ponds
,
wetlands
, and
Brush Creek
that provide plenty of fresh water for the many species of wild game that live and reproduce on the property. Prairie grasses, including Big Bluestem, Little Bluestem, Switch Grass, and Wildflowers, provide cover, insects, and seed during the nesting season. Each year, a minimum of 200 pheasants are released onto the Grassland to reproduce and replenish the birds which are harvested by hunters.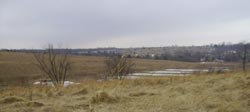 Wild turkeys roost in approximately 200 acres of timber which line the Grassland to the east. It is not unusual to see flocks of wild turkey running across a road or taking flight out of a Grassland food plot. The timber also provides refuge for a covey of Northern Bobwhite Quail that make Brush Dale their homebase.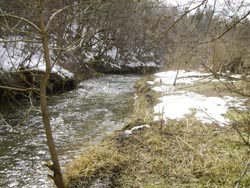 In 2005, 40 acres of land adjacent to the northern Grassland was purchased and rehabilitated into a
wetland
, further diversifying Brush Dale's habitat, wild game and hunting landscape. Eight terraced ponds were constructed and planted with marsh plants including Cattail, lilly pads, and Wheat Grass. A new, large pond was created adjacent to the Wetlands. This pond, since named the "Wood Duck Pond," often has as many as a hundred ducks on it.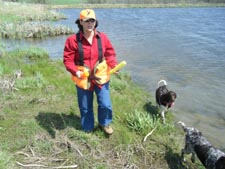 Brush Creek
, which runs the length of the property from north to south, adds to the diversity of Brush Dale with approximately 50 acres of
reforested creek bottom
. Home to the first governor of Iowa, Brush Dale boasts not only a diverse and picturesque landscape, but a unique history. A walk along Brush Creek to the south will take you to an engraved stone marker, marking the place where Governor Ansel Briggs built his home overlooking the Creek and Bluff Mill. Brush Creek is stocked by the DNR with brown and rainbow trout just across the southern border of Brush Dale on a neighboring farm. Our neighbor's section of Brush Creek is open to the public for fishing, but Brush Dale's creek bottom is private.
In 2007, the Poolers' daughter, Michelle, son-in-law, Mark Wilbers, and their three grandchildren moved to Brush Dale after renovating the old tenant house. After nearly ten years as an entirely private enterprise, Brush Dale was opened to the public for hunting in September of 2008.