Search Our Site:

Pheasant and quail are popular entrees at Brush Dale, as are wild turkey and deer. Besides tasty wild game recipes, you'll find scrumptious ways to serve garden vegetables and delicious desserts. Lodge Recipes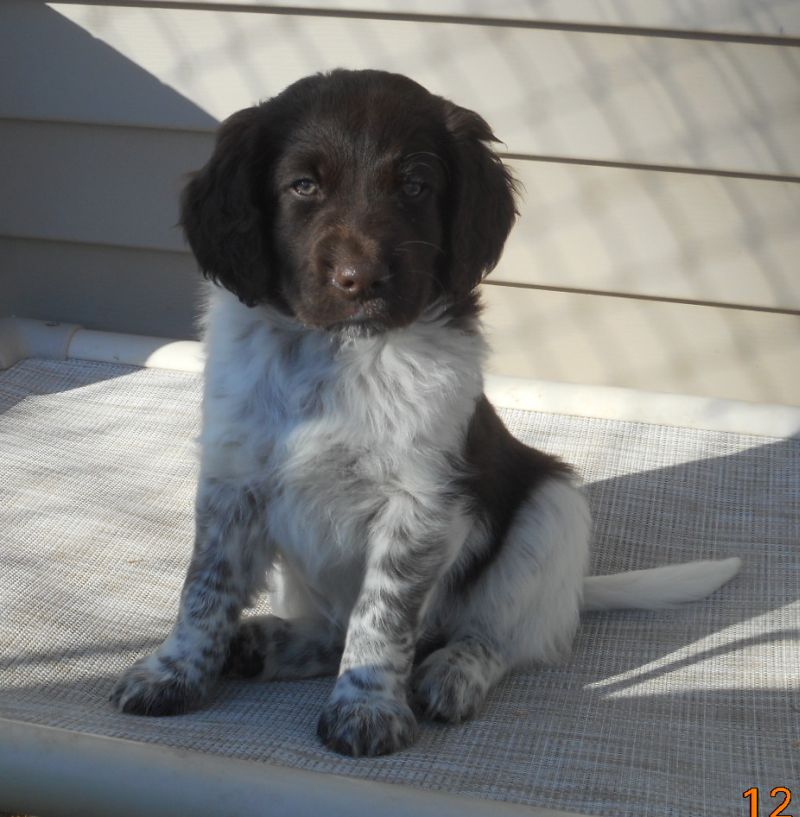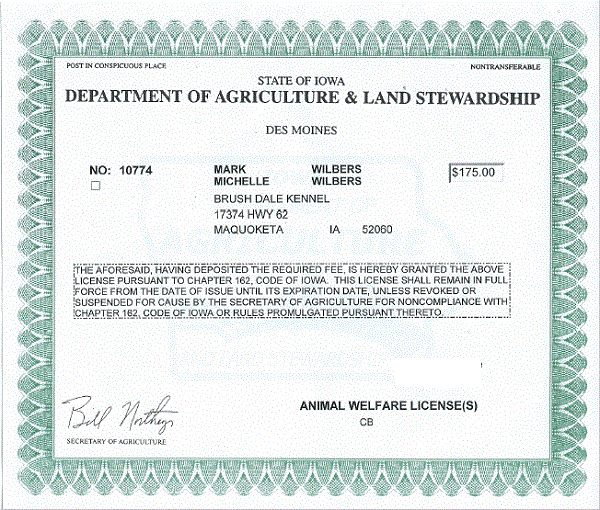 Our goal at Brush Dale Kennel is to produce Small Munsterlander Pointers with excellent physical structure and conformation that are outstanding, cooperative versatile gun dogs and exceptional family companions. We have more than 25 years experience breeding and training versatile hunting dogs, beginning with German Shorthaired Pointers in 1994 and continuing with Small Munsterlander Pointers since 2007.

Brush Dale puppies are born and raised in the home, are handled extensively every day from birth on and are well-socialized with people and dogs. We begin the housebreaking process at about four weeks of age by giving the puppies unrestricted access to their outside 10'x45' kennel yard. By the time the puppies go to their new homes, they are doing 100% of their pottying outside. At about six weeks, we begin to introduce them to our older dogs so they can socialize with dogs other than their mother/siblings and learn proper pack manners. Whenever possible, older puppies remaining with us will go on daily runs and swims with the entire Brush Dale pack. We are big believers in letting pups run free in a variety of locations so they have the opportunity to investigate new surroundings using all their senses. Among other things, doing so builds self-confidence and boldness.

To reserve your spot in the Pick Order and receive email updates, please complete the

Puppy Reservation Questionnaire

. To reserve the next available puppy from a current or planned litter at the current price, you must make a refundable* deposit. You may make your deposit using your credit/debit card or PayPal account (click

Make Deposit

button), or by check payable to

Brush Dale Kennel

sent to 17374 Hwy 62, Maquoketa, IA 52060.

The current price for a Brush Dale puppy is $1800. We require a refundable* deposit of $450 to hold a puppy for you from a current or planned litter. If you want a puppy from a current litter (puppies have already been born), we highly recommend you make your deposit at the same time you submit your Reservation. Otherwise, you will need to make your deposit when pregnancy has been confirmed for a planned litter. The deposit is refundable*, so long as you cancel no less than two weeks prior to Pick Day. Otherwise your deposit will automatically be transferred to the next litter. The remaining balance is due when you pick up your puppy (plus 7% Iowa sales tax) or just prior to us shipping your puppy to you. You may make your payments using your credit/debit card (click Make Deposit button above) or by check payable to Brush Dale Kennel sent to 17374 Hwy 62, Maquoketa, IA 52060. If we ship your puppy, you will also be responsible for reimbursing us for all shipping-related costs. For shipping within the continental US, the airline shipping costs usually total $500-$550 for an 8-10-week-old puppy. We will ship your puppy on the flight with the shortest total travel time. Ground shipping options are also available.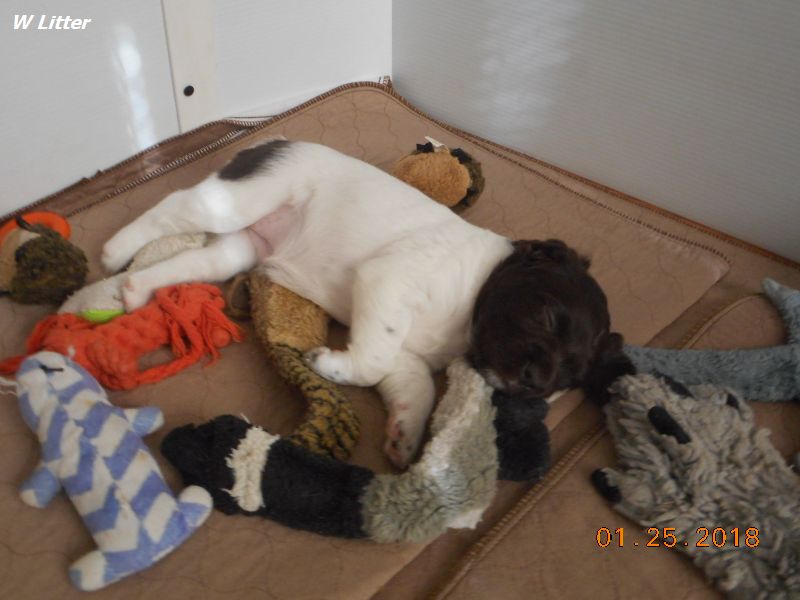 VALUE-ADDED
When you purchase a puppy from Brush Dale Kennel, you not only get a healthy Small Munsterlander Pointer puppy who is up-to-date with vaccinations and worming - you get a lot more:
Microchipped with 15-digit International mini-chip;
3-year Health Guarantee (see below);
NAVHDA and/or AKC Registration & Pedigree;
50% Testing Fee Feimbursement for NAVHDA's Natural Ability Test or VHDF Hunting Aptitude Evaluation. We highly encourage you to "test" your puppy and we will help you in any way we can to prepare for the Test/Evaluation;
Training Assistance. We have nearly thirty years of experience training versatile hunting dogs;
Low-Cost Hunting. You may "scratch hunt" on open days at Brush Dale Hunting Preserve for the cost of birds taken. For regular, reserved hunts you will be charged the per bird price rather than the package price for birds released for your hunt. (Your guests will pay the regular package price.)
At-Cost Hunting and Training Events. We generally host one or two invitation-only, at-cost hunting/training events per year at Brush Dale for our puppy buyers. If you would like to meet a lot of Munsters of all ages/colors/sexes, come as our guest to the Small Munsterlander Fun Hunt held in March every year.
Discounts on Future Puppy Purchases. You will receive a 20% discount on the 2nd Brush Dale puppy you purchase, a 30% discount on the 3rd puppy and a 40% discount on the 4th puppy or more. (Discounts do not apply to imported puppies or started dogs/puppies.)
Pick Order Priority for future puppy purchases. Repeat buyers are placed ahead of first-time buyers in the Pick Order.
Friends and Family Discount. Friends and family you refer to Brush Dale Kennel will receive a 10% discount on their 1st puppy purchase.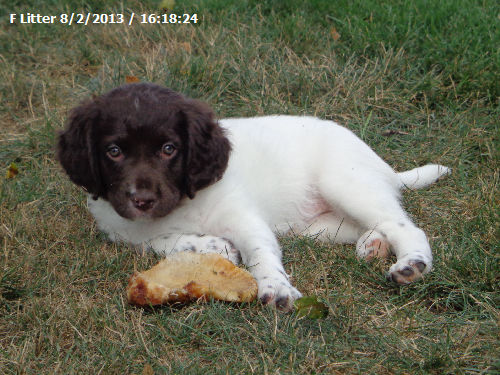 HEALTH GUARANTEE
Brush Dale puppies come with a 3-year health guarantee:
If, within 5 business days of the puppy arriving at his/her new home, the puppy is determined to be in ill health by a licensed veterinarian, you may provide us with a copy of the veterinarianís invoice for services rendered and we will reimburse you up to $250 for the cost of medications and/or procedures recommended by your veterinarian to return your puppy to sound health. Alternatively, upon signed written diagnosis from your veterinarian, you may return your puppy to us for a full refund.
If, prior to one year of age, your puppy is diagnosed by a licensed veterinarian with a genetic illness or defect that will

prohibit him/her from hunting now or in the future;
significantly limit the amount of time per day he/she can hunt from what would be considered normal; and/or
cause his/her premature death

we will reimburse you in full, or replace your puppy with a puppy of the same sex from your choice of an upcoming litter, in your sole discretion.
If, between one year of age and three years of age, your puppy is diagnosed by a licensed veterinarian with a genetic illness or defect that will

prohibit him/her from hunting now or in the future;
significantly limit the amount of time per day he/she can hunt from what would be considered normal; and/or
cause his/her premature death

we will replace your puppy with a puppy of the same sex from your choice of an upcoming litter.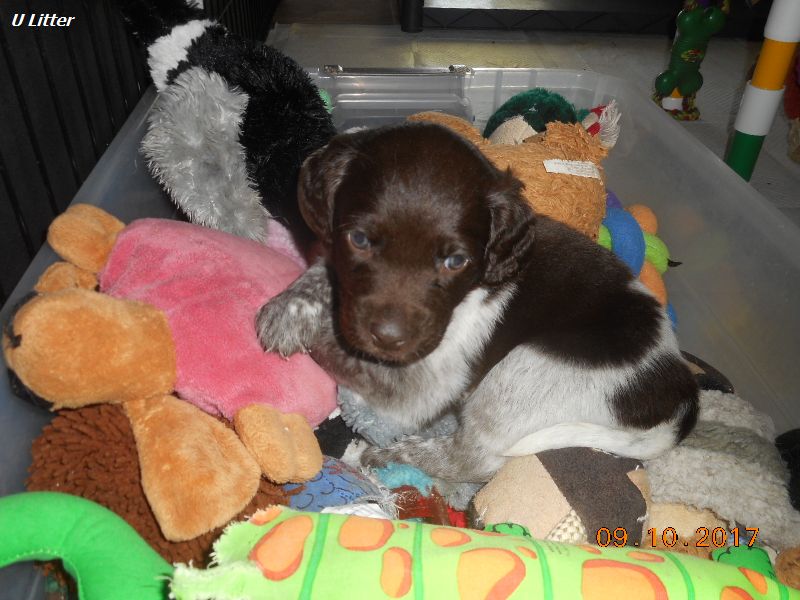 THE PICK ORDER
Making a deposit holds the next available puppy from any upcoming litter. Deposits are ordered by date only. Most people submit their Reservation prior to making a deposit. It's not uncommon for a Reservation to be submitted a year or more prior to making a deposit. The Pick Order (order in which puppies are chosen on Pick Day) is determined by a combination of category order and reservation date.
This is the category order in which reservations are placed by date to create the Pick Order:

1) Bitch and/or Stud Owner Keeping a Puppy
2) Repeat Buyers of Breeding Females
3) Repeat Buyers of Breeding Males
4) Buyers of Breeding Females
5) Buyers of Breeding Males
6) Repeat Buyers, Non-Breeders
7) Non-Breeders
8) Repeat Buyers, Non-Hunters
9) Non-Hunters
After puppies are born, buyers who made deposits are contacted to begin the process of determining the Pick Order. At that point, preferred litter and sex of puppy is taken into consideration. Some people may pass on a litter if there aren't enough puppies of their preferred sex available. Someone may decide to take a puppy of a different sex from their initial preference. No one is ever locked into a puppy of a particular color. Buyers may select any available puppy of their reserved sex on Pick Day. Therefore, the more flexible you are about litter, sex and color, the more likely you are to get a puppy, especially if you aren't at the top of the Pick Order.
BREEDING-QUALITY PUPPIES
The Small Munsterlander breeding pool in North America is extremely small. For the integrity of the breed to remain intact, breeders must choose those Munsters with the very best physical structure and conformation, cooperative temperament and versatile hunting ability for their breeding programs. Brush Dale litters are evaluated at age 8 weeks for structural quality using
Pat Hastings' method of evaluation
. Buyers intending to breed their puppies are sold those puppies determined to have sound physical structure, cooperative temperaments and the highest evaluation scores in the litter.
Read More ...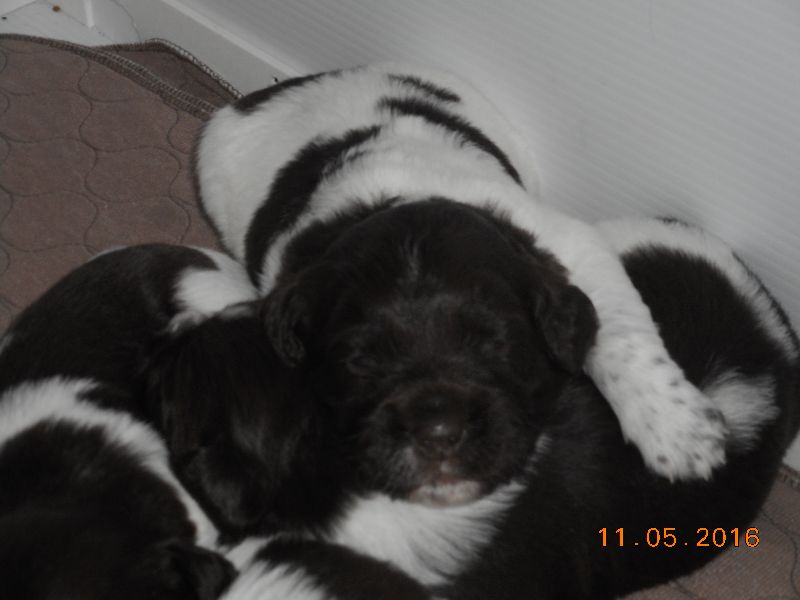 PREFERRED HOMES
We prefer to place our puppies in hunting homes and will only consider a non-hunting home if the puppy will receive regular off-lead, hunting-type activity; or will regularly participate in activities that utilize his/her natural talents, such as hunt testing (e.g. NAVHDA, VHDF, UKC, AKC), ACK tracking, AKC Agility, AKC Obedience, or AKC Rally. Although Munsters are probably the best house dogs of all the versatile breeds, they were bred to work and need mental stimulation and regular physical activity for optimal health/happiness and to be calm household companions.
Most importantly, Munsters require regular, off-lead exercise that includes the ability to hunt something.
"Something" does not necessarily have to be game birds. Hunting, whether it be for furred or feathered game, requires the same basic skill-set. Therefore, it doesn't matter if your Munster is hunting ground squirrels, he will be using the same basic skills as if he were hunting pheasants. If you cannot take your Munster somewhere to run and hunt
off-lead
for at least 20 minutes, 4 days per week (approximately every other day), this is not the breed for you. Ninety percent (90%) of behavioral problems we see are completely resolved or helped tremendously by giving the dog more off-lead, hunting-type exercise.
Read More ...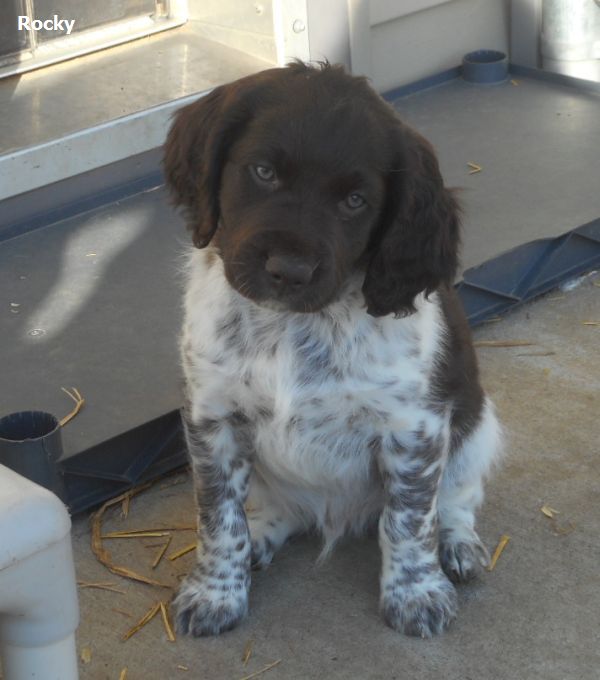 MALE OR FEMALE?
We charge the same price for either sex, as they are equally good hunters and family companions. By Standard, there is just 2cm difference in height between males and females, so they are about the same size. However, males generally have an overall bigger build and usually weigh about 5lbs more than females of the same height. It is absolutely untrue that females are better hunters, are easier to train, or are better with children. Actually, Munster males tend to do better with young children and are often easier to train than are females. Males are generally easy-going, openly affectionate, patient, wanting to please, sensitive and loyal. Since they are a little bigger than females, they tend to handle a youngster's rough housing in stride and are more capable of retrieving large waterfowl. Therefore, if you have young children or are going to use your Munster to retrieve waterfowl, we recommend you select a male puppy. Munster males have a temperament similar to Labrador and Golden Retriever females. Female Munsters are also very affectionate and love people of all ages, but they may be more difficult to train due to stubborness. Females also tend to attach the most to one member of the family and can be somewhat aloof as adults.
Read More ...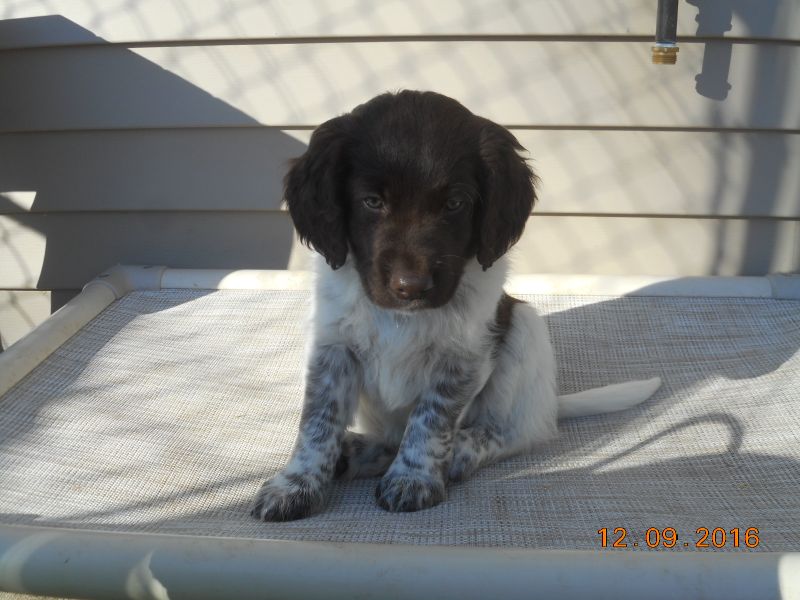 CHOOSING YOUR PUPPY
No matter how much we'd like there to be some scientific method of choosing the best puppy from a litter, there really isn't one. What constitutes the "best" puppy is extremely subjective and what becomes of a puppy is very much in the hands of its owner. So long as you are buying a properly socialized, healthy and well-structured puppy from a sound breeding by a reputable breeder, you will have the raw material for a great hunter and family companion. Our job as the breeder is to provide you with this raw material. Your job is to nurture, expose, socialize and train your puppy to be the best dog he/she can be.
Read More ...
HUNT TESTING YOUR PUPPY
We encourage you to prepare your puppy to take the
NAVHDA Natural Ability Test
or
VHDF Hunting Aptitude Evaluation
, even if you do not plan to breed him/her. These tests are designed to evaluate the success of a breeding and to provide information for making future breeding decisions. It is an important evaluation of a dog's natural hunting ability, especially if taken before twelve months of age. Most importantly, preparing for the Test helps develop a puppy into a good hunting companion. Puppies who are well-prepared to take these tests/evaluations are generally capable of doing a good job hunting for their owners during the following hunting season.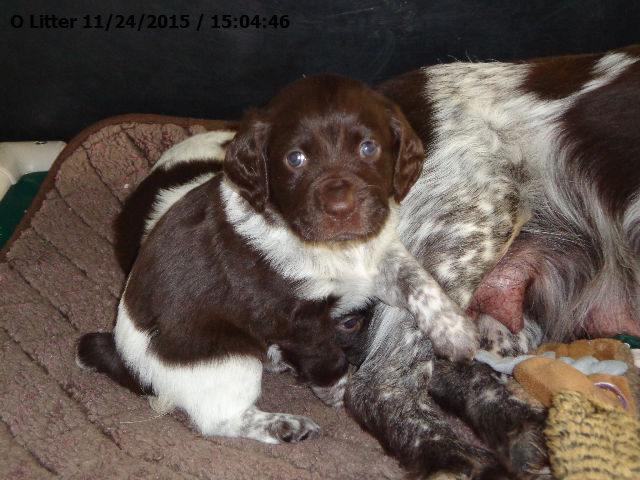 NAMING YOUR PUPPY
Your puppy's Registered Name will begin with the litter letter (for example,
Brush Dale's Amazing Grace
for an "A" Litter puppy, or
Brush Dale's Beginners Luck
for a "B" Litter puppy). We will be providing your puppy with her Registered Name when we register the litter following the sale of all puppies. Your puppy's Call Name can be anything you desire. The Call Name is what you call your puppy, what you use on vet records, etc. Often, the Registered Name and Call Name have nothing in common. When choosing a Call Name for your puppy, think of names with one or two syllables beginning with a hard consonant that are easy to yell and don't sound too much like any command you will be using. For instance, if you use "Here" as your recall command, you would not want to call your puppy, "Hero."
---
*PayPal will not refund its 3% service fee six months after payments are made. Puppy deposits made via PayPal and refunded six months+ later will have the PayPal fee deducted from their refund.