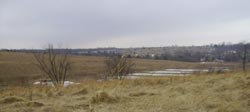 In 2005, an additional 40 acres of land adjacent to the Northern Prairie & Grassland was purchased for its potential to be rehabilitated into a wetland area, further diversifying the Preserve's landscape. With the assistance of the Iowa DNR, the land was reshaped with bulldozers and eight terraced ponds were created. The Preserve's largest pond, Wood Duck Pond, was also built on the west side of the wetlands.

In July of 2022, the Wetland Ponds were rehabilitated. All the trees were removed from the dikes. The four biggest ponds were made deeper and stocked with fish. All scrub trees and bushes were removed from the areas surrounding the ponds. Grasses and bushes were planted and barriers constructed to help prevent future erosion of the dikes.

In August of 2022, approximately 20 acres between the south end of the Wetland Ponds and Highway 62 were excavated to develop a huge marsh. A large dike was constructed along the south and west sides and two small, man-made islands were created. A variety of marsh plants will be introduced when the area fills with water. It is expected to be 4-feet deep overall with a few deeper areas. The goal is to develop a beautiful marsh that will support a variety of wildlife and give hunters at Brush Dale additional waterfowl hunting opportunities.