IntCH/NatCH Brush Dale's Killer Cute (Molly)
was born on October 29, 2014 as part of Brush Dale's
K Litter
. Molly's sire is
VC Lakewoods Augustine Altman (Austin)
and her dam is
Gosch's Kathryn Die Jagerin (KD)
. Molly earned her Jr. Puppy International Champion and National Champion titles at an IABCA International Conformation Show on 8/16/15 and her International Champion title on 4/17/16. Molly has a very dense, soft, silky brown/white coat. She has beautiful feathering on her ears, legs and tail. Molly is one of our most well-structured, well-conformed and beautiful dogs. She has
russet brown
eyes and a sweet, feminine, expressive face. Molly weighs about 45 pounds and is 50cm tall, so she is at the small-end of the Standard for the breed.
THE HUNTRESS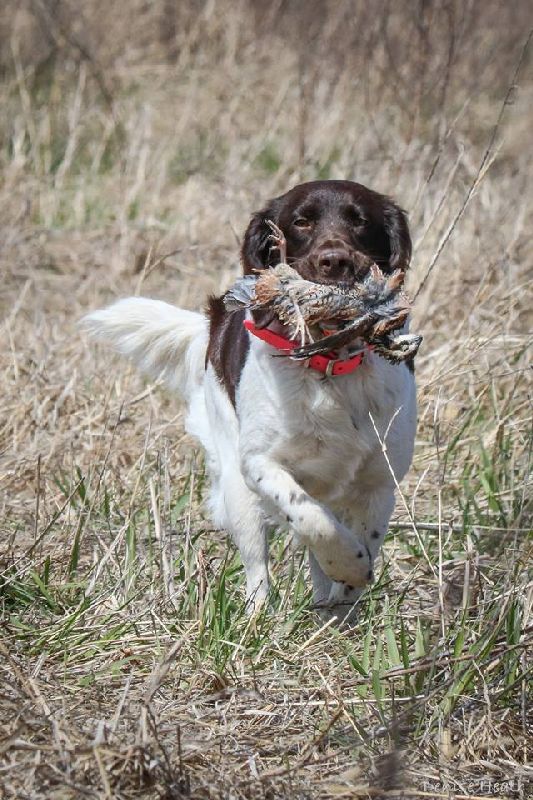 Molly is an excellent hunter with a beautiful, correct point for a Small Munsterlander. She is very steady on point and tends to hunt fairly closely and methodically. She is an excellent tracker of both furred and feathered game. Don't let Molly's calm, sweet demeanor fool you - she is extremely sharp on fur. There's nothing Molly enjoys more than taking on a raccoon.
Molly is a fantastic natural retriever. She has always retrieved everything to hand, with only positive conditioning as a puppy. In the house, Molly frequently brings things to Michelle (or Mark) for some petting or a treat. It's extremely cute. She'll stand there, looking at Michelle, wagging her tail while holding a toy in her mouth, for as long as it takes to get the attention she wants. If Michelle is watching TV in bed, Molly will bring the toy to her side of the bed and moan until Michelle pets her. She loves to be cuddled and petted and she's figured out how to get as much of it as possible!
By the time Iowa's Preserve season opened in September of 2015, Molly was already an accomplished hunter, pointer and retriever. So much so, that we used her regularly as a guide dog when guiding hunts on the Preserve. That October, just before her first birthday, she was hunting with a group of 5 gunners when disaster struck. The gunners had surrounded a small, corn food-plot and Molly and Anna were sent into the corn to flush out the pheasants. The dogs did their jobs well, and as pheasants flew and shots rang out, Molly was accidentally pelleted. She ran to Mark whining and then ran all the way home. We postponed her Spring NA Test and worked with her to overcome her now understandable fear of gunfire, but we weren't able to 100% "fix" the problem. Molly would hunt with Mark or Michelle, but not with a group of people, so her gun sensitivity showed at her NA Test.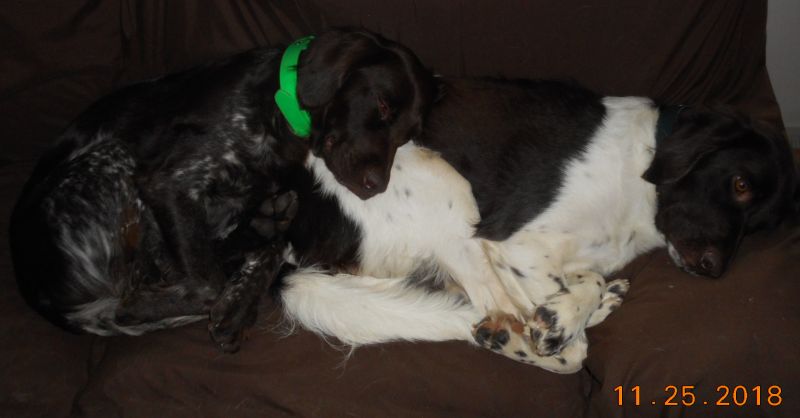 THE HOUSEPET
Molly lives in the house, as do all our dogs. In the home, Molly is extremely calm, sweet, unassuming, gentle, friendly, quiet and loving. She is a real pleasure to be with. You could not ask for a nicer dog. She's very obedient and doesn't jump or lick. Even though Molly prefers to sleep on her dog bed, she'll often lie next to Michelle in bed for a while, with her head in Michelle's lap. She very much enjoys a belly rub. When you meet Molly, you'll have no clue what a relentless hunter she is. She has the typical Munster on/off switch in the house, but if you want to see Molly turn on, just take her for a walk in the field!
Molly always got along very well with our Siamese cat, Cleo, and she gets along very well with other dogs. Once properly introduced, Molly is even OK with having other dogs come into our house. Molly's a lover, not a fighter.
Molly was very easy to housebreak and obedience train. Although she's a very tough dog when it comes to things like hunting and killing racoons, she's needed only a soft touch in training. Negative reinforcement has never been needed. All of her training has been done using positive reinforcement techniques.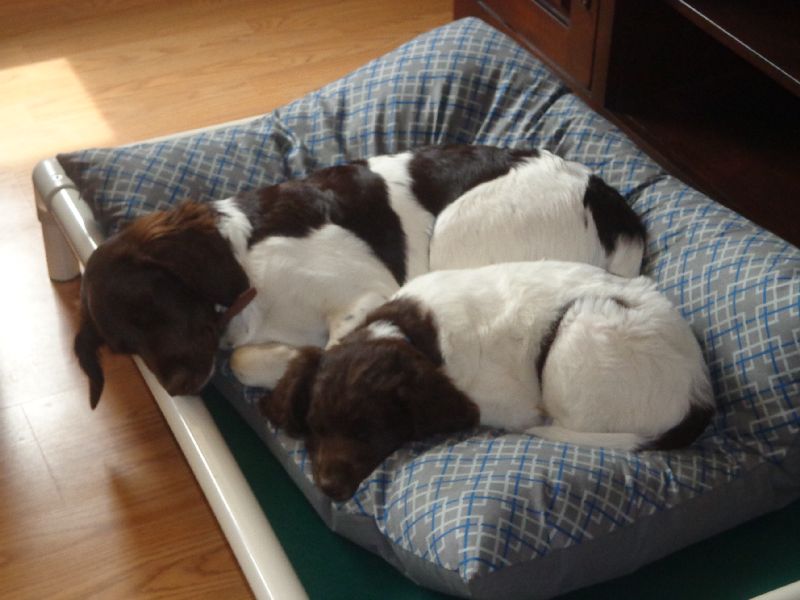 THE HOMEMAKER
Until her GG Litter, Molly only had very small litters of just 2-3 puppies. Even though there weren't many to care for, Molly was an exceptionally attentive mother. With her GG Litter of six puppies, she was no different. Michelle had to give her food and water in the box for the first few days, because Molly wouldn't get out unless her bladder was ready to burst. She spends all her time with her puppies, even when they are old enough to do without her. Whenever we've kept one of her puppies longer than the usual 10-12 weeks, Molly continues to dote over the puppy and will play and sleep with him/her.