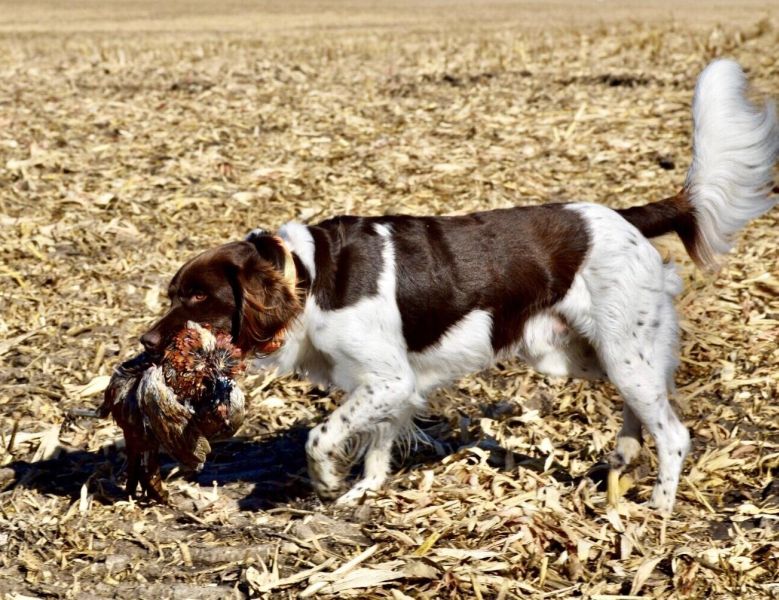 IntCH Fuglejaeger D Jixer (Scout)
was whelped on October 19, 2016 and imported from the
Fuglejaeger Kennel
in Denmark owned by
Henrik Søgaard Jørgensen
, along with his brother,
Jax
, and two other siblings. His dam is
Hedescov's Judy
and his sire is the famous
Pixer Jixer de Chesannehof
from the Netherlands. Pixer Jixer is considered one of the best studs worldwide (
more about Jixer
). Scout arrived at his home with the Wagener Family in Dubuque, Iowa at age 10 weeks. He lives in the house with his owner, Chad Wagener, and family. Scout is their first Small Munsterlander and is the first versatile hunting dog Chad has owned. Chad feels strongly he could not have picked a better breed or have gotten a better dog.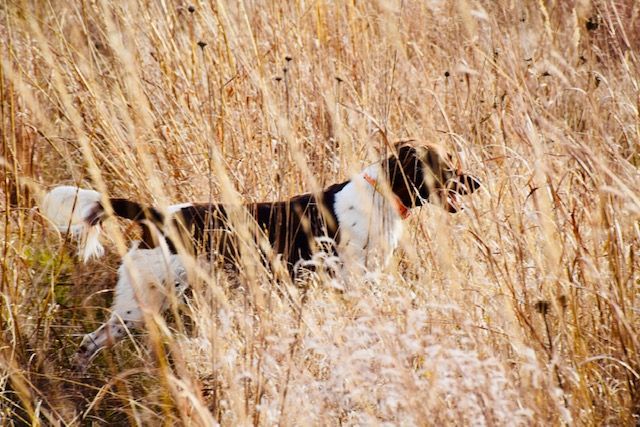 Chad hunts Scout as often as his busy life permits, primarily hunting pheasants in Iowa and South Dakota. Scout has high drive, works at a mid-range distance and quarters constantly when hunting with a group. He is very good about matching Chad's speed when hunting solo. Scout works tirelessly and will hunt all day long if Chad lets him. He begins every hunt with youthful exhuberance, but quickly settles into a strong search pattern.
Scout has an excellent nose and the ability to locate birds in adverse conditions. He has a distinct point, locks on immediately when he locates a bird, holds his points well and flushes if/when commanded. All of this is 100% natural. Scout also has a natural retrieve to hand, making him something of a dream dog for a first-time owner/handler like Chad. Scout has "laut" on fur and also frequently "barks" in frustration at flushing hens. He hunts well with other dogs and is very social with no aggressive tendencies. Due to Chad's lack of waterfowl hunting, Scout has had limited waterfowl experience, but is a strong swimmer who loves the water.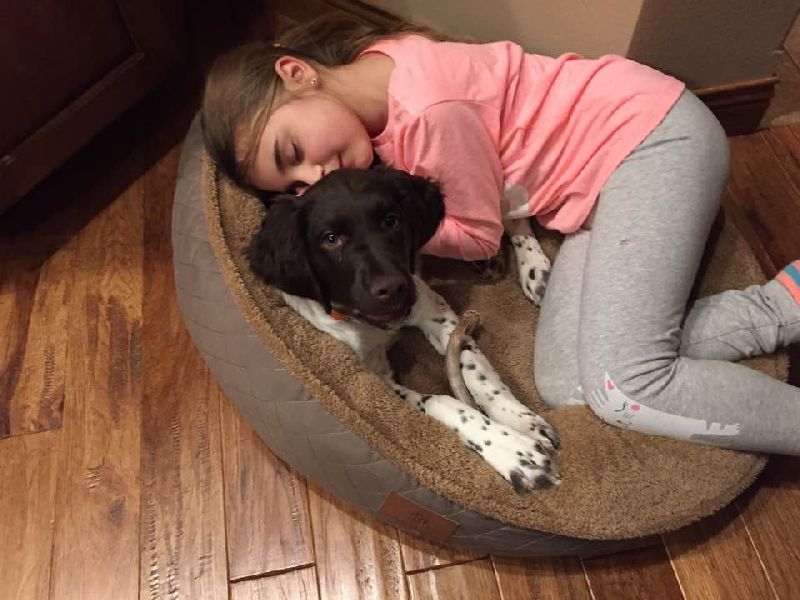 Scout was raised in a family with three small children and is a very well-mannered house dog. He is naturally calm and relaxed at home, with a typical Munster "off-switch." He is a very quiet dog and never barks unless commanded to "speak" (or when Chad doesn't shoot at the hens he's worked so hard at finding). Scout has strongly imprinted on Chad and clearly views him as the Alpha of the home. Chad feels Scout is extremely intelligent when compared to all other dogs he has owned. Scout constantly seeks Chad's praise and affection without being intrusive or needy. He is also friendly to strangers and enjoys his neighborhood walks to see what everyone is up to.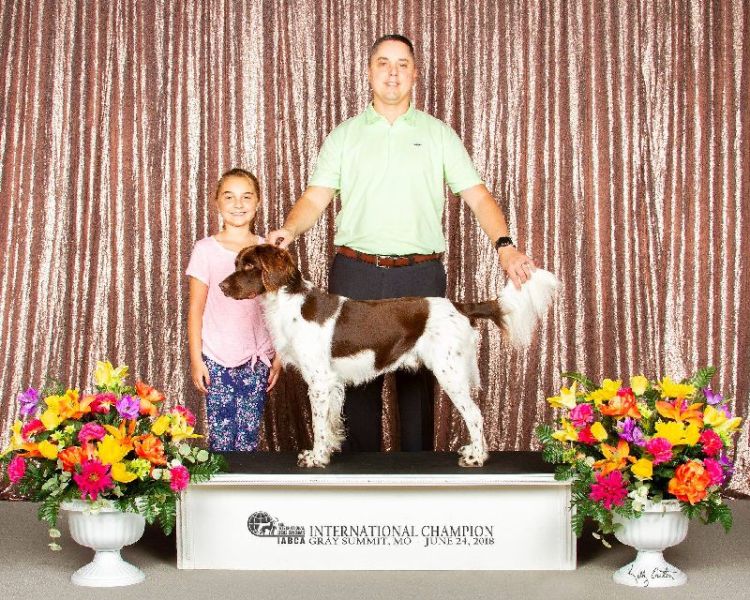 Scout has shown very well at conformation shows and Chad believes he would be strong competition for all breeds if they both had more experience in the show ring. Chad had judges at conformation shows ask to buy Scout from him, which he would not even remotely consider! Scout earned his International and National Puppy titles on September 17, 2017 in Rockford, Illinois and his adult International title on June 23, 2018 at Purina Farms near St. Louis, Missouri.
Scout earned a maximum score at his NAVHDA Natural Ability Test on June 3, 2017 at age 7 months. Chad is confident in Scout's natural ability and believes his best teacher has been time in the field. Scout has continuously far exceeded all of Chad's expectations and he could not be happier with him.