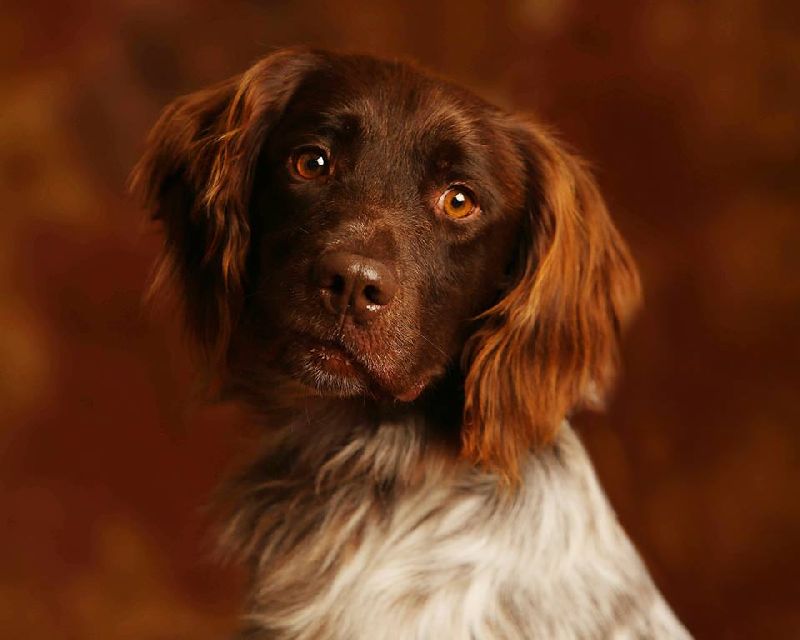 IntCH Brush Dale's He's Got Game (Ike)
was born on September 12, 2013 as part of Brush Dale's
H Litter
. He was selected from his litter as a potential breeding male because of his exceptional physical structure and temperament as a puppy. Ike's sire is
Julson's Dax (Audie)
and his dam is
IntCH Brush Dale's Brown-Eyed Girl (Tess)
. Ike earned his International Title in Conformation at the 2016 Purina Farms Summer Sieger IABCA International Conformation Show on 6/26/16. Ike is owned by Jeff Hough of Washington, Iowa.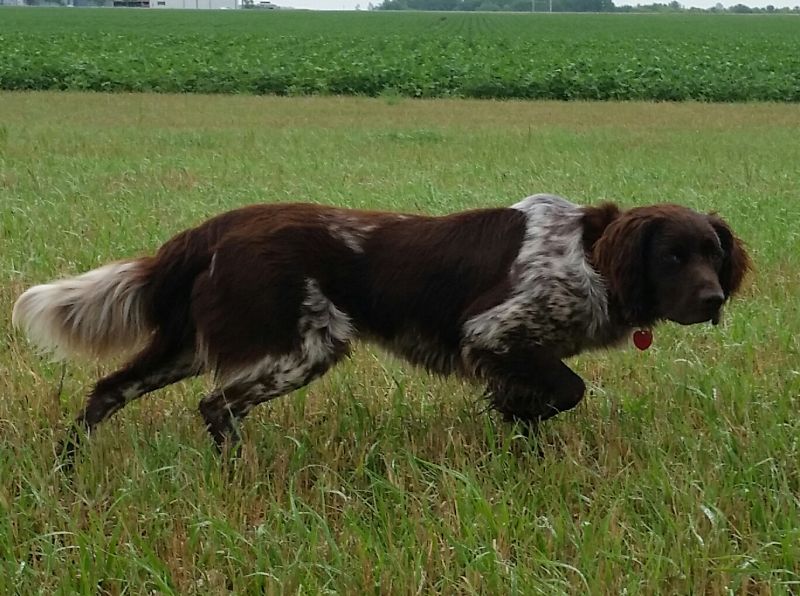 Ike has a medium-length, dense, soft roan coat with gorgeous furnishings on tail, ears, forelegs and hindlegs. Ike weighs about 50lb and is approximately 53cm in height, which makes him of about average height for the breed.
Ike is hunted frequently by his owner, who is often hired as a guide on wild pheasant hunts in south-central Iowa. Ike is a tireless, bold, hunting machine with a terrific nose and the drive to find every bird in the field. He is a natural retriever with a soft mouth who dependably retrieves both furred and feathered game to hand without having any forced retrieve training.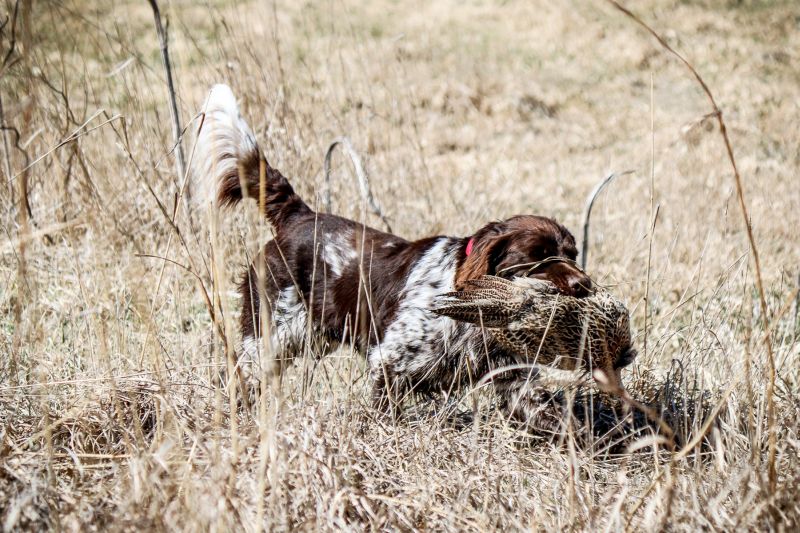 Ike is his owner's first versatile hunting dog. Jeff and Ike trained often at Brush Dale in the months preceding Ike's Natural Ability Test. Although Ike has a lot of drive, he is very cooperative and was therefore very easy to prepare for his Test. Jeff often jokes that it was he who needed the most training for the Test! Ike has a beautiful, staunch, correct point for a Small Munsterlander. Ike loves the water, taking any and every opportunity to get wet, even if all he can find is a mud puddle.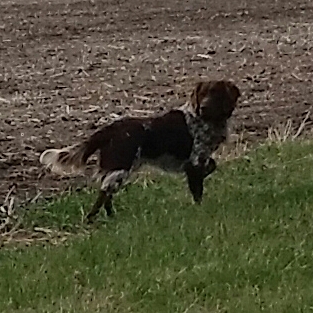 Ike is a cuddly, sweet, happy-go-lucky dog who loves to have his belly rubbed. He gets along well with most other dogs and warmly greets everyone he meets. Inside the home, he's generally content to quietly lie on the floor or in his crate and watch TV and sleep - until Jeff makes a move toward the door. Then Ike is revved up and ready to go outside! Although he generally wants to be wherever Jeff is, he loves his outside kennel and refuses to sleep in the house at night, even when it's very cold outside.